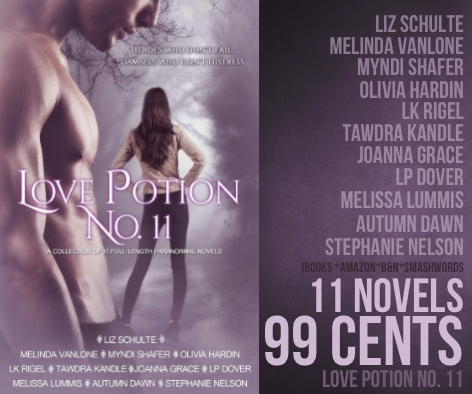 What do you get when you take eleven awesome paranormal authors, toss them into one box set, and turn up the heat?
This box set contains ELEVEN full-length novels from eleven authors. And right now. . .for a limited time. . .it's only 99 cents.
Talk about a bang for your buck.
Eleven full length paranormal novels celebrating strong women, sizzling hot heroes, and all the things that go bump in the night.
One of the collection's authors, Olivia Hardin, is here with a special post about her story:
From book one of the Bend-Bite-Shift Trilogy, fans were in LOVE with Roon. He was just a side-character and I honestly never had any intention of writing a story about him. Still, the more people asked, the more he began to chatter in my head and it wasn't long before I knew he would have a book all his own.
Sweet Magic Song (For Love of Fae Book One) belongs to Roon and right now you can get it as a part of the Love Potion No. 11 Box Set. So just in case you're on the fence about one-clicking the book, let me introduce you to the snarky, sexy, spectacular faery via some of my favorite "Roon-Isms."


This is all a part of your destiny. Remember, tomorrow is promised to no one, and I can't guarantee you what will happen on this journey.
Pain, joy, death, life, magic. All of it fits…
Roon on the female anatomy:
Yeah, she's got one great set of lungs.
I always took that sexy ass of yours very seriously and look what that got me.
Roon on Friendship:
"Let me make something clear to you, princess." He spoke against her lips, his voice rough and low. "I'd do anything for Devvie. She's my best friend. I'm going to return this wallet to her. I'm not going to say a damn thing about your little thievery, and then I'm going to come back here. And you and I are going to have a long talk."
Roon using a little Common Sense:
Listen, the bond is too intimate for us now. It doesn't do either of us good that at any time I can close my eyes and see you. I mean, I'm probably lucky I haven't caught a glimpse of your man's junk yet as it is.
Princess, that's what love is. It opens you wide, reveals your soul, makes you vulnerable, but it also makes you available to get so much more.
And of course everyone's favorite Roon-Ism:
You, princess, put the wow in boomchickawowow


So what are you waiting for? Buy Love Potion No 11 right now and get Sweet Magic Song, plus 10 other Ah-MAZING book, all just 99 cents right now!


When Olivia Hardin started
having movie-like dreams in her teens, she had no choice but to begin putting them to paper. Before long, the writing bug had bitten her, and she knew she wanted to be a published author. Several rejections plus a little bit of life later, she was temporarily "cured" of the urge to write. That is, until she met a group of talented and fabulous writers who gave her the direction and encouragement she needed to get lost in the words again.
Olivia has attended three different universities over the years and toyed with majors in Computer Technology, English, History and Geology. Then one day she heard the term "road scholar,"' and she knew that was what she wanted to be. Now she "studies" anything and everything just for the joy of learning. She's also an insatiable crafter who only completes about 1 out of 5 projects, a jogger who hates to run, and she's sometimes accused of being artistic.
A native Texas girl, Olivia lives in the beautiful Lone Star state with her husband, Danny and their puppy, Bonnie.
Connect with Olivia and Get information about releases, contests, news and more here:
Website
and enjoy fun tidbits from the books by visiting a
different blog every day!